News
OA's Outstanding Contribution Award – winner announced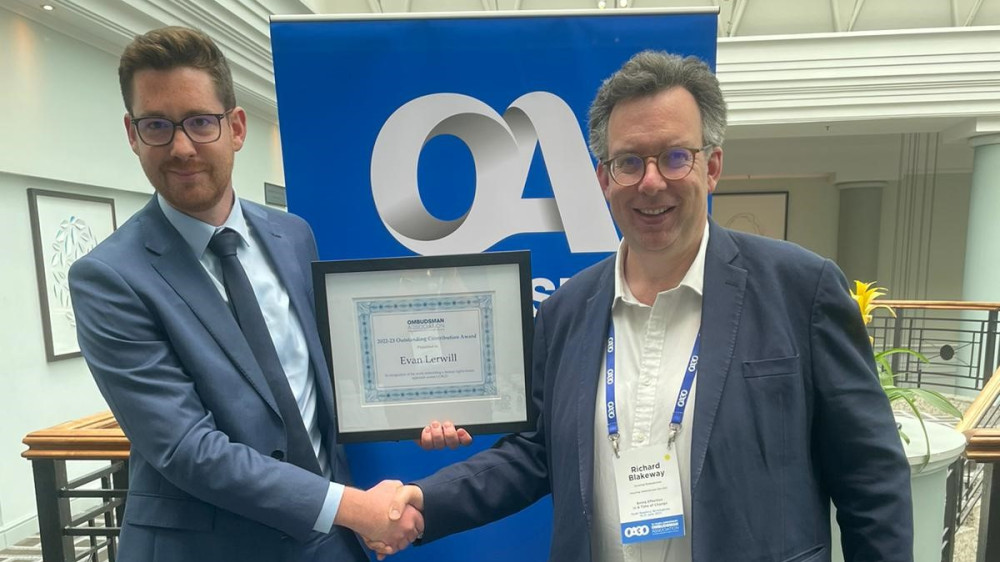 The OA are delighted to announce that Evan Lerwill, from the Local Government & Social Care Ombudsman (LGSCO), is the 2023 winner of the OA's Outstanding Contribution Award.
The OA's Outstanding Contribution Award (OCA), which was established in Caroline Mitchell's memory to recognise and celebrate the outstanding work that so many in the ombudsman community do, was awarded to Evan for the work he has done embedding a human rights-based approach across LGSCO's investigations.
The Chair of the OA, Richard Blakeway, presented the award to Evan at the OA's Conference, which took place at the Hyatt Regency in Birmingham.
Richard said:
"I'm delighted to present Evan with the OA's Outstanding Contribution Award. The panel were impressed by the impact his work has had both at LGSCO and more broadly, and I wanted to share with you an excerpt from the nomination form which demonstrates the high regard he is held in:
"Evan's approach to this work has been innovative, positive and committed, and he has brought colleagues into the work and highlighted their contributions and success internally and externally. His quiet dignity in championing this project, coming from a place of strong personal values, has shone through and he has gone above and beyond in the time and effort given whilst managing the other significant and time-consuming aspects of his role."
On receiving the award, Evan spoke about the importance of that work:
"We have witnessed an erosion of human rights in our society over recent years, with public services that protect basic everyday rights often stretched to threads. We regularly see this in our casework, through the systemic collapse of support for children with special educational needs; the heightened barriers of entry to adult care services; and the chronic shortage of suitable housing for vulnerable families.
It is entirely correct and proportionate that we frame these issues around the language of human rights. This helps promote better public understanding about the rights and protections we should all expect, and strengthens our voice when we share these difficult stories with policy makers and make recommendations for positive change.
I am delighted the Ombudsman Association has recognised the progress we have made in this area, and I'm incredibly grateful for our staff's collective effort in making this happen."
Related News