Press release
OA's Outstanding Contribution Award – winner announced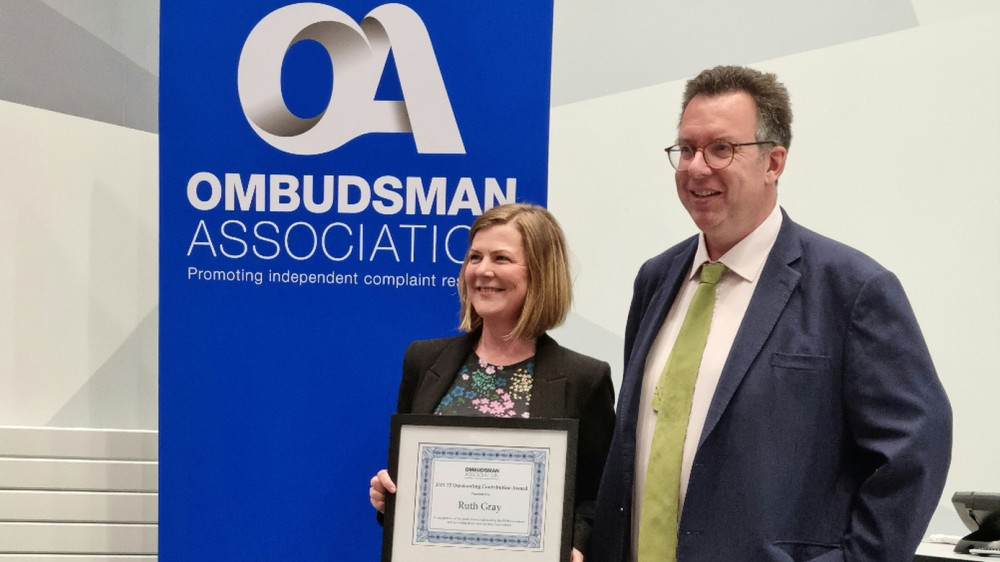 The OA are delighted to announce that Ruth Gray, from the Parliamentary & Health Service Ombudsman (PHSO), is the 2022 winner of the OA's Outstanding Contribution Award.
The OA's Outstanding Contribution Award (OCA), which was established in Caroline Mitchell's memory to recognise and celebrate the outstanding work that so many in the ombudsman community do, was awarded to Ruth for the work she has done leading PHSO's academy team.
The Chair of the OA, Richard Blakeway, presented the award to Ruth at the OA's Conference, which is taking place at Royal Holloway, University of London.
Richard said:
"The panel were impressed by the impact Ruth's contribution has had on others and I'm delighted to present her with the OA's Outstanding Contribution Award today. But before I do, I wanted to share with you an excerpt from her nomination describing that impact:
"Joining an ombudsman service can be a daunting prospect, especially when the majority of the work involves dealing with people who are in poor situations and have experienced terrible things. The pressure is immediately on to be empathetic, customer focused and receptive, all whilst ensuring the investigations are thorough and decisions are robust. 
However, Ruth's jovial and approachable nature ensures any initial trepidation is swiftly cast aside. As a result, the focus on how to do the job well is at the forefront of the agenda from the start, allowing everyone involved in the training and later development to be at ease, knowing they are supported by a genuine, down-to-earth manager.
The development of the academy set up has been pioneering for the PHSO as an organisation, allowing caseworkers to have access to Ruth's knowledge and expertise. This has proven to be a success and Ruth deserves the accolades and recognition for revolutionizing the way training is implemented and arming new caseworkers with the right skills to become successful in their new careers."
On receiving the award, Ruth said:
"I am honoured to receive the award from the Ombudsman Association and am touched to have received such wonderful nominations from colleagues who have joined PHSO through the Academy. I am delighted to hear their positive experiences and to have been part of that is fantastic."
Related News